STYLE - 2 pcs Philips H4 COLOR Vision headlight bulb - add a touch of BLUE
Bulb type: H4
Model range: COLOR VISION BLUE (latest model 2020/2021!)
Model code: 12342CVPB S2
Application: It is used both on high beam and low beam depending on headlight specification and foglights
Main benefit: ColorVision adds a touch of colour to your car optics in blue, green, yellow or purple.
Product class:

STYLE
---
Designed for reflector optics for colour customisation
Philips ColorVision creates coloured effects by reflecting light into the lamp optics. Switch on your headlamps and light up with a touch of colour.
Coloured car lamps that are certified road legal
ColorVision lamps comply with all ECE regulations and come with a certification card to prove they are road legal. Keep it with you in your car at all times.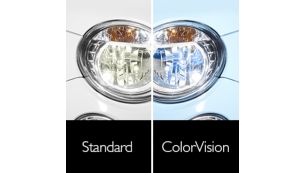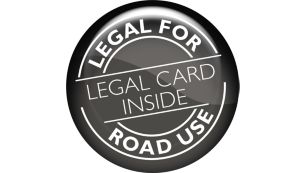 ---
React faster with more light
Increased visibility is proven to help you react faster while driving. With up to 60% more vision, ColorVision increases your visibility by 25 metres compared to standard lamps. Anticipate any obstacles that might come your way more easily.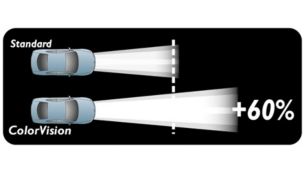 ---
Light up the road with up to 60% more white light
Thanks to its technology, Philips ColorVision lights up the road with up to 60% more white light than any other standard lamp. So you see the road ahead more clearly, while your optics add a touch of colour.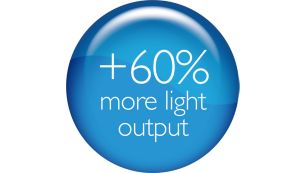 ---
or contact us here, we will be glad to help you.
1. First find out what type of bulb you need (H1, H7, H4, D1S, D2S, D2R, D3S, D4S, D4R etc.). If you could not identify your car bulb type, you can check above Philips bulb check link or contact us.
2. Do not be confused with the numerous Kelvins&Lumens. Just decide what you want: 1. Standard bulb 2. Tuning bulb (mainly for blue effect) or 3. Premium performance type bulb. Philips and Osram have taken care for the rest, no one knows better than leading manufacturers. Then simply choose your brand (Philips/Osram) and bulb range in a given class.
---
More than 80% of the PHILIPS/OSRAM xenon bulbs sold on global markets (especially online sales at eBay, Amazon etc.) are fake. HOW TO SPOT A FAKE BULB? GENUINE vs. FAKE, please visit our FACEBOOK page to see how can you spot a fake bulb and save your money and time.
© Legal warning: All texts, descriptions and illustrations on our website are subject to copyright protection. Copying and using them for commercial purposes without our written consent is strictly prohibited and subject to copyright claims.
---
WHY BUY FROM US?
1. We only sell ORIGINAL / GENUINE / OEM xenon parts. No scrap, no replicas! We provide 1 year warranty for all bulbs.
2. We ACCEPT RETURN for ANY REASON in 14 days after receiving the item. For return conditions please click here.
3. We ship WORLDWIDE. All ballasts, igniters and bulbs are shipped the SAME DAY or NEXT WORKING DAY following your payment. For peace of mind, all of them will be shipped via FULLY TRACEABLE, FULLY INSURED SHIPPING service. You can follow your order anytime you want and plan your fitting service. Standard delivery cost to European countries veries only between 8-15 EUR.
We are an European Union (EU) company which means that we deliver directly to your door if you are living also in EU member state: no custom, no custom tax for EU deliveries. VAT free delivery is also possible for the EU VAT registered companies.
Customers out of EU countries are responsible for the custom taxes upon delivery if applicable.
Below you can find the estimated delivery times for standard international shipping for European countries as well as USA/Canada and Australia. DHL Express Shipping service (next working day worldwide delivery) is also available at the checkout.
| | |
| --- | --- |
| OEM part manufacturer: | Philips |
| Part condition: | NEW |
| Bulb type: | H4 |
| Model range: | COLOR VISION - BLUE |
| Model code: | 12342CV |
| Kelvin: | 3350 |
| Voltage: | 12V |
| Wattage: | 60/55W |
| Bulb class: | STYLE |
| Application: | High beam & Low beam |
| Placement on vehicle: | RIGHT/LEFT |